Anvil Iron Works - Nampa, Mtn. Home, Homedale, Sun Valley, Boise Automatic Security Gates
Iron Security Gates
Automatic Gates
Gate and Door Automation for home and business
Style, safety, security, convenience - some of the many advantages of automatic gates systems. But with such a variety of systems and designs of gates available, how do you choose the best combination for your setting?
We want you to have all the information you need to make this important decision.
The first step is to decide whether swing or sliding gates would be the right solution for your home. If your driveway is reasonably level and you don't need to park cars right up to the gates, swing gates may be a good choice.
If your preference is for sliding gates, remember that they will need space to slide into as they open. We are happy to advise you on your options and safety guidelines.
Automatic Gate Control
Whether security or convenience is your priority, access control -who can enter your property, how and when - will play a vital part in your new gate system.
Types of access control equipment include intercoms, radio transmitters, videos and keypads. Take time to consider exactly what you want from your system, and we will be happy to discuss the requirements with you.
To create your ideal system, you can combine several access control methods - for instance, radio controls for the family, a key pad for the gardener, or staff, and a video camera for visitors. However sophisticated your requirements, we can design a system to match them.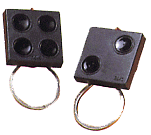 Anvil Iron Works has been a leader in automation equipment for years. We offer total reassurance of the highest quality, great looking gate operating systems. Each of our systems is designed to meet the on-going demands of usage with the highest level of reliability and the minimum maintenance support.
If you need a beautiful security gate to create curb appeal and give your home or business the comfort of safety then call Anvil Iron Works today 208-249-9195 or fill out our online request form & we will give you a FREE ESTIMATE!
Call us at 208-249-9195 or fill out our online contact form.